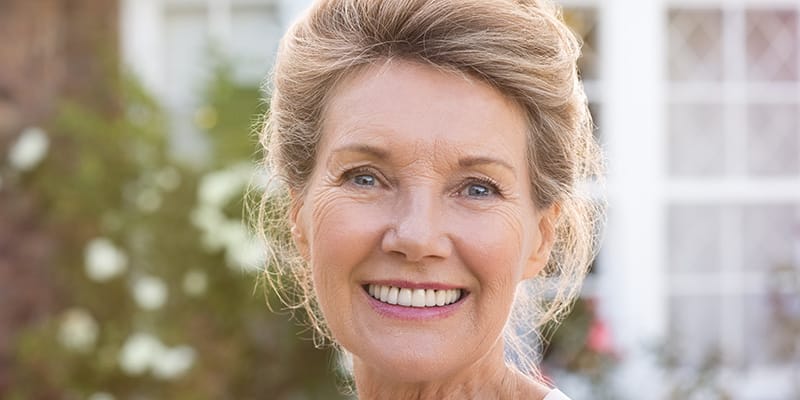 Loose fitting dentures can be uncomfortable and cause embarrassment. Unfortunately, loose fitting dentures is an unavoidable process and will happen especially to those people who wear a full set of dentures or have worn dentures for a long time.
The constant pressure of wearing a denture will inevitably affect your gum tissue and over time, your gum tissue will gradually wear away. This has an impact on the bone under your gum which also gradually melts away resulting in your dentures becoming loose and no longer fitting properly.
There are a couple of different options for a loose denture and we can talk through these with you in detail. You and your dentist will need to consider some questions such as Are you happy with wearing dentures? Can you still bite and chew food? How worn are your dentures? Are your gums and jawbone healthy?
Book A  Consultation or Book your dental examination
*£99 Consultation fee with Dr Avik including CBCT
What are the options for a loose denture?
Relining Dentures – If you have had your denture for at least 2 years, you may need to have it relined. This involves applying a new surface to the denture so that it fits in your mouth properly. There are two types of denture relines: hard relines uses a hard acrylic and soft denture relines uses a special material which is usually used on sensitive gums. If you have lost a lot of bone and gum tissue, any reline option will be temporary.
Dental Implants – New dentures can be made which are supported by dental implants. This is the most permanent solution and prevents the denture from the uncomfortable sensation of moving and feeling loose. A dental implant eliminates any wear and tear against your gum and bone, keeping them healthy.
Before and after Dental Implants
Our dentists bring at least 20 years' experience to our practice, so you know you'll be in safe hands when you put your trust in The Implant Centre at Twyford Dental.
Expect a friendly welcome, state-of-the-art equipment – including intra-oral scanners and 3D radiographs – and treatments with minimal downtime.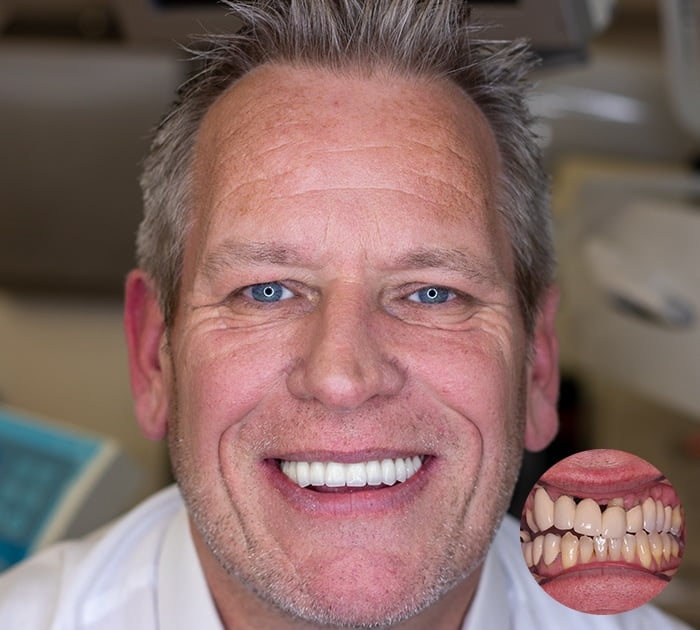 How i-Smile Stabilise and i-Smile Complete Can Help With Loose Dentures
The i-Smile is a concept invented by leading implantologist at The Dental Implant Centre which aims to reduce the amount of dental appointments and time taken needed to fit dental implants. Dental implants will be completed in a maximum of 7 appointments and surgical times will be a maximum of 2 hours.
We know that every patient is different and therefore every treatment will be unique. As a guide, the i-Smile concept has two service options for those patients with loose dentures:
i-Smile Stabilise which promises stability for those patients suffering from persistent denture problems. Either the patient is given 4 dental implants into the upper jaw or 2 dental implants in the lower jaw which stabilises the denture but ensuring that it remains fully detachable. 
As an alternative, patients who currently wear full dentures but are struggling with them feeling loose, we can offer the i-Smile Complete. This is where the denture is replaced with 6 dental implants on the same day to the upper and lower jaw. Whilst the gums are healing, we will fit you with an immediate temporary bridge or denture before a final bridge is fitted once the healing process is complete. The i-Smile Complete means you will no longer need dentures after the dental implants are in place.
Dental Implants Treatment Options