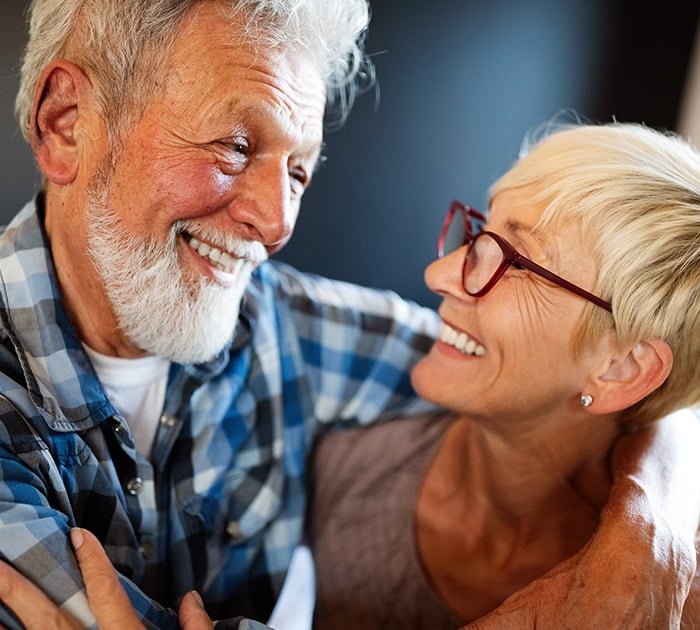 Dental implants & i-Smile™ system
i-Smile is a concept developed by Dr Avik Dandapat which aims to simplify the dental implant process and treatment time. Instead of taking up to 20 appointments to fit dental implants, i-Smile aims to complete your treatment within 5-7 appointments and with a maximum surgery time of 2 hours.
We aim:
To always have the initial free consultation to discuss your objectives and oral health
To complete the surgical work on the second appointment within 2 hours. Dental implants will be placed into your gums and you will be fitted with your new temporary teeth
To complete treatment with a minimum of 5 follow up appointments where we will fit the final custom-made teeth and check on your oral health
I-Smile Services
As part of the i-Smile concept we offer 5 treatment packages relating to the dental implant options. You will see these services as you look through the dental implant options.
Dental Implants Treatment Options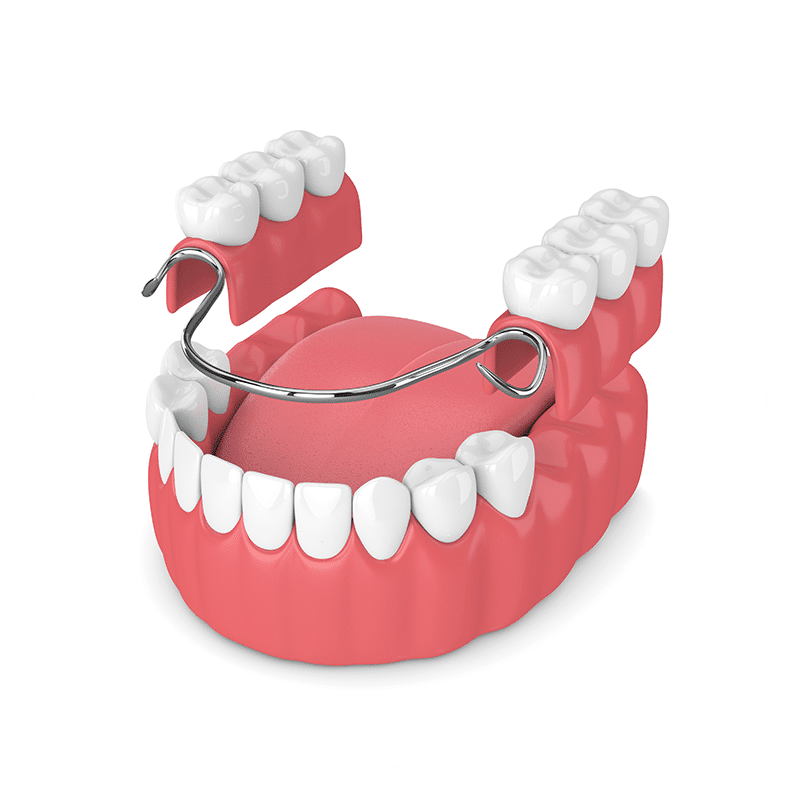 Book A  Consultation or Book your dental examination
*£99 Consultation fee with Dr Avik including CBCT
Before and After Dental Implants
Our dentists bring at least 20 years' experience to our practice, so you know you'll be in safe hands when you put your trust in The Implant Centre at Twyford Dental.
Expect a friendly welcome, state-of-the-art equipment – including intra-oral scanners and 3D radiographs – and treatments with minimal downtime.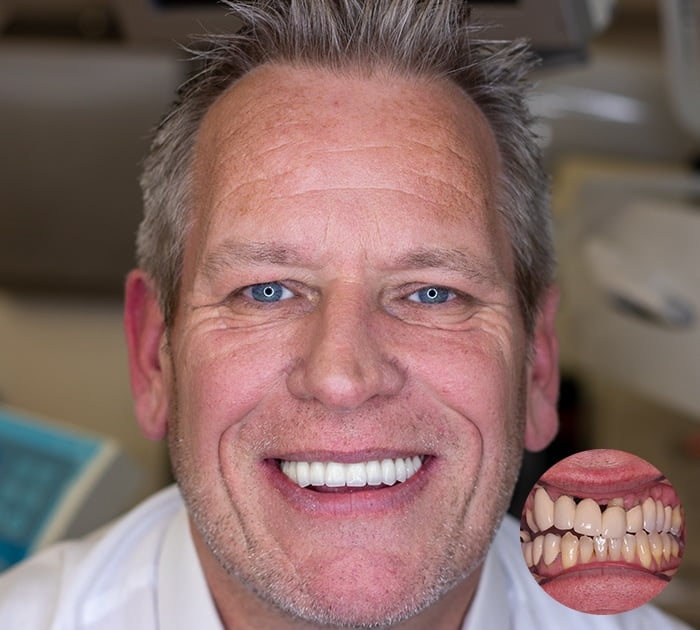 Our Dental Implant Centre can offer you
If you have missing teeth, here are 7 reasons to come and see us for some impartial advice:
We offer a free consultation to assess your teeth, health and your goals
Our leading implantologist, Dr Avik Dandapat is highly qualified and has placed over 5,000 dental implants to extremely satisfied patients
We offer 4 different dental implant packages ranging from standard to high aesthetic. There is something to suit everyone and every budget
Our dental implantsare guaranteed for 5 years and are of highest quality
Our prices start from £1,950 or £35.67 per month plus we offer finance to help with payments. 0% APR for 12 months
We are the pioneer and champion of i-Smile, where complete treatment for dental implants is completed within 5 to 7 appointments. This concept is applied to different service level options for dental implants including The i-Smile Single for a single missing tooth
We offer pain free surgery and I.V. sedation for treatment. We understand and can help nervous patients
Dental Implant Common Questions and Answers by Dr Avik Dandapat
Does the procedure hurt ?
Generally no – all surgeons use anaesthetic that numbs the area therefore patients will not feel any pain during placement of the implant. We also as a clinic offer intravenous sedation which relaxes patients and further reduces pain and anxiety.
How long does it take to place the implant(s)?
Using our unique i-Smile methods we can place a single implant within 10-15 minutes and aim to for larger cases such as full arch restoration to a maximum of 2 hours surgical time ?
Do I need time to recover ?
Generally if we place our implants recovery is on the same day. Patients are often back to work the next day after treatment. Extensive grafting surgery or sinus grafting we tend to allow a period of 2-3 days of rest. But every person is different in anatomy so recovery does tend to differ from each individual. We would assess all patients medically prior to any surgery and advise on all possible recovery times.
Who should I be seeing to place my implant ?
Dental implantology currently has not been awarded its own specialist list. All dentists whom have received adequate training can perform dental implant surgery and restoration.However it is our opinion that dentists whom hold specific qualifications in implant dentistry have been trained , assessed and examined and have adequate experience should be delivering the more complex implant dentistry.
Why are implants so expensive ?
In terms of comparison to other dental treatments dental implants require a higher level of investment, this is because the costs involved in delivery of implant treatment to the very highest of standards is costly in terms of setup. equipment needed (3D Scanners, On site theatres, support staff) , higher level of training and skills of implant dentists. In our clinics for example for a single implant placement it takes 3 support nursing staff to set up a theatre, we have special vacuum autoclaves systems for higher levels of sterilisation, 2 surgical lighting systems and that's just the start. We still however aim to offer very good value for money for implant treatments. 
What are the risks of dental implants – surely its not all great ?
Any medical or surgical procedure carries risks and this is no different in dental implantology. Generally risks associated with dental implants are very low in the right hands. The main risk of placement of a dental implant is failure to osseointegrate – whereby the bone does not fuse with the implant – generally an accepted failure rate is 2% (2 in every 100). Failure of an implant is not a dramatic nor painful process usually the implant is loose and mobile and can be removed using a air of tweezers. Other risks include damage to anatomical structures such as nerves, however in our clinic a majority of patients have 3D scans and we have exact measurements of volume as well and position of any sensitive structures.
What happens if my implant fails ?
In our clinic our failure rate in <1%. But we have assessed contingencies if failure were to occur. We would provide all remedial treatment free of charge, furthermore we would offer after appropriate healing period a second placement of an implant and this would also be at no extra cost to our patients. We would audit all failures and assess causes as we all thrive to achieve a 100% success rate.
What maintenance is required ?
Generally if you are with your general dentist and see them every 6 months then we would like to see you once a year to assess the implant. The yearly implant exam is a 10 min appointment whereby we check our implant, crowns your bite and stability. We may take an X-ray to check the bone levels. As part of our guarantee you are required to attend yearly as small problems are easily rectified if caught early such as a change in biting over time putting undue pressure on an implant. The cost of this varies by the number of implants you may have. Our unique implant protection scheme covers all aspects of recall examination costs.